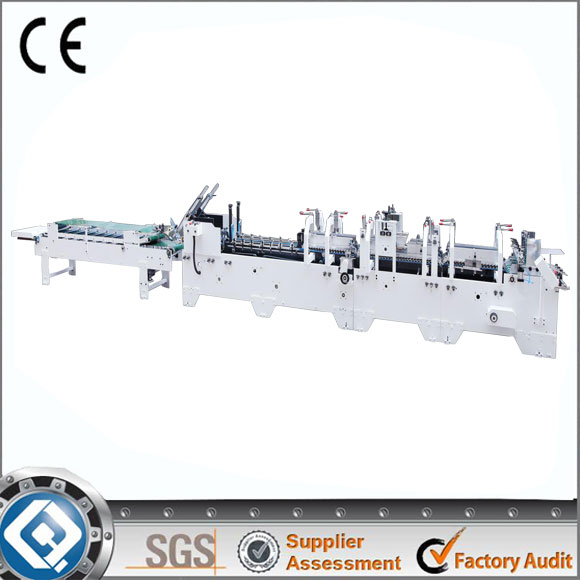 HH-GY high-speed bottom lock gluing folding machine
Descriptions:
Series HH-GY folding gluing machine is 4-fold bottom-lock machine, adopt synchronous belt transmission and electronic continuously variable speeder, domestic standard electronic components, feeding section adopt mechanic continuously variable, stable and easy to control and operate.
It is widely used in food, medicine, cosmetics, stationery and other ordinary cartons, process and glue for all kinds of bottom-locked cartons. Pre-fold section is applied to auto packaging, fold 2 and fold 4 of all cartons can reach 90° and 180° ,perfectly combing the requirements of auto packaging together.(In case of any special function required, we can design according the customers intension)
Main technical parameters
Model
HH-650GY
HH-780GY
Paper Material
Cardboard250-700g
Max. Liner speed
220m/min
Feeding way
Automatically and continuously feeding
Way of folding in revere
Fold 1 and fold 3 are 180°,fold 2 and fold 4 are 90° and 180°,bottom folded and glued
Glue
Water-base cold glue
Needed Power
6kw  380v
6kw  380v
Weight
3T
3.5T
Overall dimension
8.45×1.3×1.45m
8.45×1.45×1.45m
Note: In case of any special function required, we can design according the customers intension.Show some pictures if possible.
Tips: * Upper gluing bucket can be adjusted separately up and down, right and left, to ensure the gluing quality.
* Bottom gluing bucket can be adjusted right and left,set gluing amount, east to assemble, disassemble and clean.
*But if ur product is special-shaped like potato chips box, then it needs spraying system
Which is customized on user order.
 1. Feeding section
* Auto feed correctly and continuously , internal of feeding is adjusted by continuously variable speeder;
* Independent high-speed feeding bell can be easily adjusted;
* Independent vibrating motor can improve feeding greatly;
*Feeding blade and baffle on the left and right can be adjusted supper and down to shorten adjusting and carton changing time.
 2. Folding
*Packed with special track device
*Lengthened folding to avoid the unevenness while the rapid forming of cartons and make it come to perfection.
 3.Bottom folding
* The entire bottom-lock part is installed in a reversible bracket, substantially reduce the swap adjustment time of bottom-fold box and the other types of box.
* Bottom-folding speed is 50-400 pcs per min, stable and reliable.
 4. Full pressing
*Pressure can be adjusted conveniently,reliable ,ensure good quality of gluing ;
*With counting device to count the finished boxes to match with boxes regulating, easy to count and pack.
 5. Transmission
Structure is specially designed , pressure adjustment is easy and reliable to ensure the quality of gluing.
Advantages
1. Main wall plate adopt international standard 14mm thick iron plate, hot and cold tempered treatment
2. Main motor adopts Aimoxin motor
3. Folding belt adopts server motor
4. Converter adopts Schneider France
6. Spraying System
Equipped with three guns,convenient in the production various special box,gluing quickly and accurately sizing.(Options: customized on user order)

5. Synchronous belt adopts Gates USA
6. Bearing adopts NSK Japan
7. Flat belt adopts NITTA Japan
8. Transmission belt adopts FABREEKA Netherland
9. Main elecrical parts adopts Schneilder
Our Workshop & Delivery
Box Shape & Sample