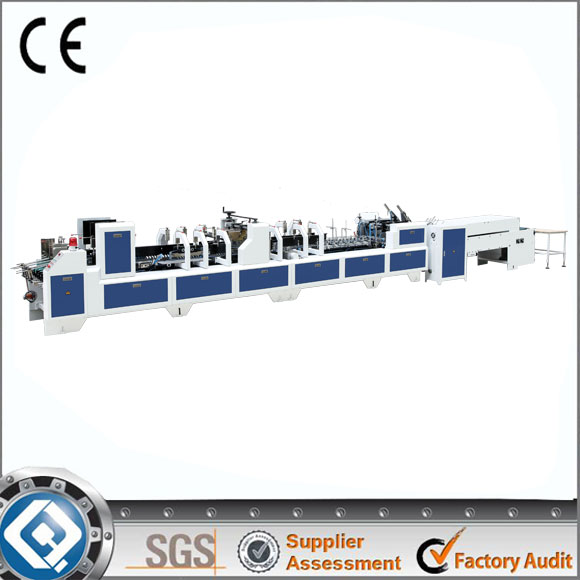 HH-SGYZ Auto High-Speed 4-Fold Bottom Lock Gluing Folding Machine
Description:
Adopts rail-type operation, transmission adopts strengthened portable single structure, stable operation and simple maintenance.
Transmission adopts upper and down main drive, without removing the shaft. Belt can be replaced rapidly.
Adopts manual and PLC operating system, with a remote control device, photoelectric device, quantitative counting, automatic paper-kicking device.
PVC conveyor, pressure is adjusted through pneumatic pressure, equipped with sponge belt to ensure the quality of products.
Technical Specification
Model
HH-650SGYZ
HH-780SGYZ
Paper Material
Cardboard210-800g
Max. Liner speed
350m/min
Feeding way
Automatically and continuously feeding
Way of folding in reverse
Fold 1 and fold 3 are 180°, fold 2 and fold 4 are 135°and 180°,bottom folded and glued
Glue
Water-base cold glue
Power Supply
3P380V50HZ
Main motor power
7.5kw
7.5kw
Total power
9.36kw
10.06kw
Weight
5.0T
6.0T
Overall dimension
12×1.4×1.45m
12×1.4×1.45m
The parameter of 4 folds box bottom locked and the folded box:
Model
HH-650SGYZ
HH-780SGYZ
A
MAX
630
760
MIN
180
180
B
MAX
500
500
MIN
50
50
H
MAX
100
100
MIN
25
25
Carton type and size:
Model
HH-650SGYZ
HH-780SGYZ
A
MAX
650
780
MIN
90
90
B
MAX
700
700
MIN
50
50
Two-side gluing box type and size:
Model
HH-650SGYZ
HH-780SGYZ
A
MAX
500
650
MIN
50
50
B
MAX
700
700
MIN
50
50
H
MAX
50
50
MIN
10
10
Advantage and improvement
 Feeding section
* Auto feed correctly and continuously, internal of feeding is adjusted by continuously variable speeder;
* independent high-speed feeding bell can be easily adjusted;
* independent vibrating motor can improve feeding greatly; * feeding blade and baffle on the left and right can be adjusted upper and down to shorten adjusting and carton changing time.
 
 Pre-fold:
1,Long-distance folding, to ensure 180° of the 1st line, 135° the 3rd line,convenient to open the box to be filled.
2, All parts can be easily replaced, convenient to install the parts of other types of boxes.
 
 Bottom Locking:
1,The entire bottom-lock part is installed in a reversible bracket, substantially reduce the swap adjustment time of bottom-fold box and the other types of box.
2,Bottom-folding speed is 50-400 pcs per min, stable and reliable.
 
 Guling bucket:
1. Upper gluing bucket can adjusted separately up and down, right and left, to ensure the gluing quality.
2. Bottom gluing bucket can be adjusted right and left, set gluing amount, easy to assemble, disassemble and clean.
 
 Folding:
Lengthened folding to avoid the unevenness while the rapid prototyping of cartons and make it come to perfection.
 
 Full pressing:
1. Pressure can be adjusted conveniently, reliable, ensure good quality of gluing.
2. With counting device to count the finished boxes to match with boxes regulating, easy to count and pack.
 
 Transmission:
1. One-touch pneumatic pressure adjustment, easy operation.
2. Equipped with feeding paper inspection device.
3. Equipped with impacting device to press the paper after accounting and make it easy to pack paper.
 
The Advantage of our machines compare other suppliers
1. The frame steel plate material is thicker 20mm than other supplier, to keep machine more stable.
2. Curved bow regulate position in case of fault transfer paper avoid waste paper.
3. Cam fine tuning part of better folding position.
4. Feeding belt is imported
5. Drive bearing is imported.
Packing:
Warehouse: