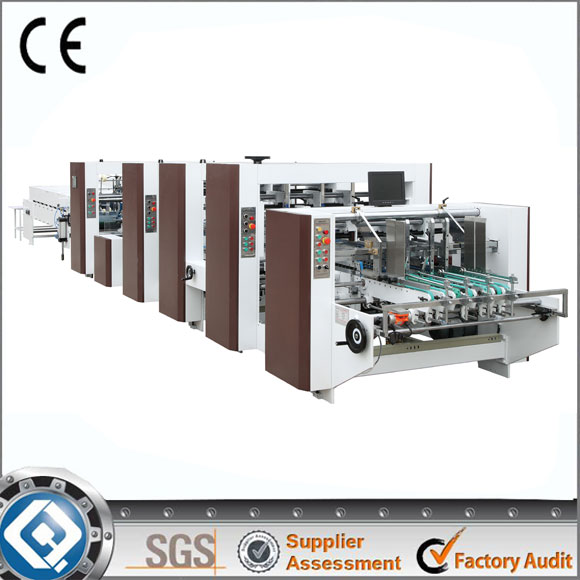 HX-JZ Auto High-Speed Gluing Folding Machine
Main Technical Parameters
Model
HX-1200JZ
HX-1450JZ
paper Material
Cardboard 200-1000g, A/B/E Corrugated
Max.Liner speed
280m/min
Feeding way
Automatically and continuously feeding
Way of folding in reverse
Fold 1 and fold 3 are 180°
Glue
Water-base cold glue
Power Supply
3P 380V 50HZ
Total power
13.5kw
14.5KW
Weight
8T
10T
Overall dimension
15*1.9*1.6m
15*2.15*1.6m
Main feature:
1. Main wall plate adopt international standard 14mm thick iron plate,But others use iron plate 8mm.
2.imported belt. More durable and stable
3.Main bearing in the machine is imported, from NSK, Japan
4. Position adjuster: easy to adjust position, make machine run smoothly, decrease defective index
5.Cam regulation. Make sure that the precision of the box.
DESCRIPTION
Series HX-JZ folding gluing machine is two-purpose machine, adopts Electric regulating board, PLC, imported electronic components, feeding section adopt mechanic continuously variable, stable and easy to control and operate. The machine is especially designed for all kinds of cardboard, corrugated packaging boxes, has correction function, make corrugated boxes perfectly meet the requirements of auto packaging together. (in case of any special function required, we can design according to the customer's needs.).
The parameter of 2 folds bottom locked box and the folded box:
Model
HX-1200JZ
HX-1450JZ
HX-1600JZ
A
MAX
1180
1430
1580
MIN
250
250
250
B
MAX
700
700
700
MIN
80
80
80
H
MAX
100
100
100
MIN
25
25
25
Unit:mm
Carton type and size:
Model
HX-1200JZ
HX-1450JZ
HX-1600JZ
A
MAX
1200
1450
1600
MIN
250
250
250
B
MAX
1000
1000
1000
MIN
80
80
80
Unit:mm
Two-side gluing box type and size:
Model
HX-1200JZ
HX-1450JZ
HX-1600JZ
A
MAX
1180
1430
1580
MIN
300
300
300
B
MAX
700
700
700
MIN
100
100
100
H
MAX
50
50
50
MIN
10
10
10
Unit:mm
Advantage and improvement
 1. Feeding section
Auto feed correctly and continuously, internal of feeding is adjusted by continuously variable speeder; independent high-speed feeding bell can be easily adjusted; independent vibrating motor can improve feeding greatly; feeding blade and baffle on the left and right can be adjusted upper and down to shorten adjusting and carton changing time.
 
 2.Paper Correction or Bottom Locking
At the part , the machine can only have one function , paper correction or bottom locking.
For the correction ,equipped with auto-correction device to correct the obliquity and ensure the correct feeding.
For the bottom locking,3-board tracking structure, upper glue can make bottom-locked box automatic gluing and forming, can be used for the special-shaped cartons;The entire bottom-lock part is installed in a reversible bracket, substantially reduce the swap adjustment time of bottom-fold box and the other types of box; Bottom-folding speed is 60-400pcs per min, stable and reliable.
 
 4.Folding
Equipped with upper driver, folding belt has correction function, lengthened folding to make box forming more stable.
 
 5.Releasing and collecting sections
Adjust the pressure easily and reliably to ensure the gluing quality; Equipped with pneumatic counting device which makes the counting conveniently. The press is equipped with independent speeder. The operator can set the collecting speed according to the packing speed.
 
6.Press:
Equipped with one-touch pneumatic pressure adjustment.
Press has 3 functions:
1/Waiting, when feeding is being paused, press will auto start the waiting state.
2/ Travel switch, pause the machine in case of wrong collecting.
3/ Regulating function.
 
P.S
Main driver adapts synchronous belt for power transmission.
Motor adopts variable-frequence speeder to make it running more stable.
Our factory
Our packaging