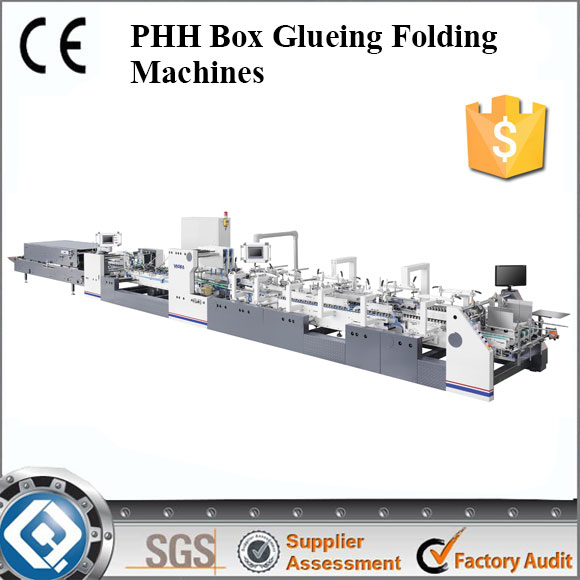 PHH Box Glueing Folding Machines
Welcome to Wenzhou Qichen Industry & Trade Co.,Ltd.
Brief Description:
 PHH series Box Gluing & Folding Machine is high speed box making machine, widely used for package box/cartons for food, medicine, health care products, cosmetics, alcohol, light industrial products such as the box, are basically using the gluer machine for paste box processing.
HH box gluing and folding machine absorb the latest technology and experience at home and abroad, using modular design and the latest processing technology, electrical adopt PLC control, simple operation, the host motor frequency control speed, output controlled by servo motor, the whole structure is reliable.
This type machine focus on making 4-corner box, 6-corner box, also for straight line box, hook(bottom lock) box, side glue box, box inside box, mini box, CD box, four corner box, six corner box, and other special (irregular) box.
Specification:
Model
PHH-800
PHH-1100
PHH-1450
Paper Material:
Cardboard 200~800 gsm, corrugated board reach E-flute & B-flute.
Glue
Cold Water Glue
(W*L)Max Paper Size:
800*900 mm
1100*1000 mm
1450*1000 mm
Min Paper Size:
135*60
270*60
270*60
选购小盒折盒装置

最小尺寸

85*60
135*60
135*60
Max Belt Speed:
375m/minute
375m/minute
300m/min
Power Source:
3-Phase  380V  50HZ
Total Power:
15KW  (4-times fold bottom lock box, 4 or 6-corner box,)

11KW  (Twice fold bottom lock box)

11KW  (twice fold one side glue box)

4-corner or 6-corner box,

4-times fold bottom lock box,

10Ton
10.5Ton
11Ton
Twice fold & bottom lock box,
8.5Ton
9Ton
9.5Ton
twice fold one side glue box,
7.5Ton
8Ton
8.5Ton
The Box can be made in this machine:
6 Corner box :  (made in 4-corner & 6-corner box, Reverse Lock machine)
 
4 Corner box :  (made in 4-corner & 6-corner box  Reverse Lock machine)
 
| | |
| --- | --- |
| Bottom Lock box | Normal Box |
| |   |
| | |
| --- | --- |
| Two side glue and fold box | Irregular box |
| |   |
Features Overview:
 A.To ensure the machine quality and life time, Adopt high-quality brand Machine main parts, electrical parts, belts, bearings, etc.
 B.Machine drive mechanism adopt hexagonal shaft, multi-ribbed belt drive, more stable and reliable, high efficient, quiet, low maintenance costs.
 C.Paper feed, the host motor, the transmission adopt separately motor, frequency control, the proportion of movement linkage.
 D.A simple Hex Wrench can finish all adjustment while change box size, reduce the time to replace the tool, and more easy for adjustment, simple to make different box.
 E.Low frame design, easy operation.
F.The moving shafts are covered by a stainless steel helical protection sleeve, which provides a good protection against the operator.
 G.All step adopt modular design, the user can choose machine according to the box requirement, unilateral (one side) box gluing machine, bottom lock box machine, twice fold & bottom hook(lock) box machine, four times fold & bottom hook (lock) box machine, 4-corner & 6-corner box gluing folding machine.
 H.Main frame material adopt quality steel 25mm thickness, with precession treatment to keep machine stable,
 I.Adopt famous brand belt to keep the machine running reliable and no error,
 J.Quality important brand electronic parts to keep the parts long life.
 K.Bearing adopt SKF and NSK to keep the moving durable and reliable.
 L.Advanced machine design is the most important, guarantee the machine running stable, high efficient.
Feature introduction
 PHH machine include device: Paper feeding, Guiding, Pre-folding, bottom lock, Folding, Full press, conveyor device.
PHH-1100
Paper Feeding Device: 

Paper automatic feeding continuously and accurately, internal of feeding by continuously variable speeder;

8pcs quality belt, each belt can be adjust separately, to guarantee the feeding stable and smooth.

Separately servo motor drive feeding, accurate speed control, more precision control the paper feed gap.

High efficient vibrating motor keep feeding stable;

Feeding blade and baffle on the left and right can be adjusted upper and down to shorten adjusting and carton changing time, And each adjust the feed blade gap to fit for different thickness paper feeding.
Guide Device: 
Guide device guide the paper feed,

Correct the paper feeding error, keep paper in right position.

Can adjust the left or right side against on box shape.

Quality bearing and belt to keep the paper feed precession.
Pre-folding Device: 
This device pre-fold for 1st line and 3rd line, make the box more easy open and pack (more good for pack line),

Adopt 43mm best for left-bottom feed, with the 180 degree pre fold blade, keep the box paper side from abrasion.

Easy change parts for different style box shape.
Bottom Lock (Hook) Device:

Bottom lock device is a three-plate conveyor belt structure.

The upper pressure belt is sub-type design, retractable adjustment, easy adjustment to make many type of box (bottom lock box, irregular box, etc).

Also can equipped with 180 degrees folding device, effective response for 6-corner, 4-cor box, irregular box etc which are most complex box type.
Folding Device :

The folding device is used to fold the second-line and the fourth line of the carton box.

It is the last part of the carton box folding.

It fold the carton box shape by the upper pressure conveyor belt, folding knife, Rivet-belt, pressure roller, pressure bar,

The left and right Rivet-belt can adjust speed to keep the shape of the carton box perfection.

The three board can be easy moved by motor control.

All the moving board are easy adjust by motor.

The moving shafts are covered by a stainless steel helical protection sleeve
Full Press Device :
The main function of this device is to connect the main machine (box glue, fold press) and the conveyor device,

Full press device collect the box orderly and guide the box to conveyor device, and can be adjusted conveniently, reliable, ensure good quality of gluing.

With counting device to count the finished boxes to match with boxes regulating, easy to count and pack.
Conveyor Device :

The conveyor device is the final step of make paper box,

It press the carton box to ensure the glue stick the box prefect.

Our conveyor device is longer than normal to keep press long time, guarantee the box gluing well.

Adopt pneumatic control the belt pressure, easy operate.

The upper press conveyor belt can be moved back and forth, more easy adjustment for different length box.
Water Glue Spray Gun :
For 4-corner box, 6-corner box, irregular box, Need Extra Water Glue Spraying Guns.

Equipped with three guns,

convenient in the production various special box, gluing quickly and accurately sizing.
Glue Bucket :
Right and left down glue bucket, used to glue the carton and box, easy assemble and clean, high speed and no fault.
4, 6-corner reserve lock device :

Equipped with two servo motors control the reserve lock,

First servo control axis make 4-cornr box reserve lock,

Second servo control axis make 6-corner box reserve lock.
| | | |
| --- | --- | --- |
| Feed Motor | Main Motor | Conveyor Motor , two motor |
| | |   |
| | | |
| --- | --- | --- |
| Two PLC Touch Screen | Monitor Screen | Remote Controller |
| | | |
List of the parts
| | | | |
| --- | --- | --- | --- |
| NO | Name | Specification | Brand |
| 01 | Paper feed servo motor | SD20,3Kw | EURO |
| 02 | Main Motor | | TECO, Taiwan |
| 03 | Reserve Lock Servo moor | 1.8Kw | Japan Yaskawa |
| 04 | Conveyor Motor | 1.5Kw | JiangSu OuBang |
| 05 | Rocker Plate Motor | 120w | JiangSu OuBang |
| 06 | Conveyor ribbed belt | PL | France Hutchinson |
| 07 | Feed Sponge Belt | 8mm | Japan NITTA |
| 08 | Based Band | 4mm | SIEGLING |
| 09 | Conveyor Belt | 3mm | DiMa |
| 10 | Main Bearing | | SKF |
| 11 | Other bearing | | NSK |
| 12 | Bet Cylinder | MA20*15SCA | AirTac, Taiwan |
| 13 | Collect Cylinder | ¢32*20 | Rexroth |
| 14 | Linear Slider | | Taiwan HIWIN |
| 15 | Variable-frequency Drive,VFD | VFC3610 | Rexroth |
| 16 | Touch Screen | MT6103 | Taiwan |
| 17 | PLC | | Taiwan |
| 18 | Remote Controller | | Taiwan |
| 19 | Power Switch | NSE-100-24 | Taiwan |
| 20 | Contactor | LC1E0910 | Schneider France |
| 21 | circuit breaker | | Schneider France |
| 22 | Button | | Schneider France |
| 23 | Sensor | E3Z-D61 | Japan OMRON |
| 24 | Encoder | | Japan OMRON |
| 25 | Electromagnetic Valve | | Japan SMC |
| 26 | Water glue guns | | Guangdong  Keqi |
Note
We Reserve the right to alter specifications without prior notice.