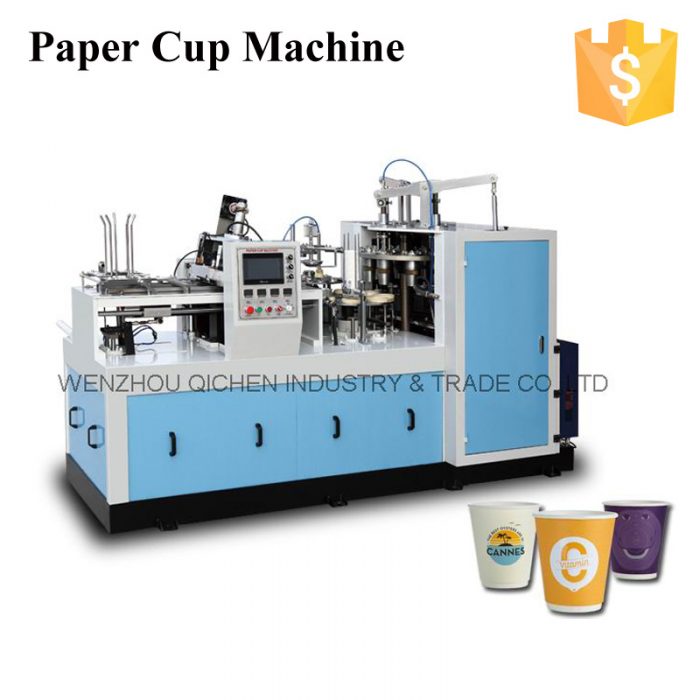 ZBJ-X12 Ultrasonic Paper Cup Forming Machine
Our newly designed ZBJ-X12 paper cup forming machine is a fully automatic paper cup forming machine, which can produce different sizes of paper cups with a series of continuous process, including automatic paper feeding through more than 2 times, paper anti-withdrawal device (to ensure accurate positioning), ultrasonic welding, transferring paper fan by magic hand, silicone oil lubricating, bottom punching, bottom folding, bottom pre-heating, bottom knurling, cup discharging. The machine, researched and developed by our company, is improved in stability after comprehensive technical improvements.
Main feature:
1. Output is improved: The productivity is improved from 50-60 pcs/min to 60-70 pcs/min.
2. Stepping-motor is used to control the bottom paper feeding, so that the gap between the bottom-paper is controlled within 0.1mm, which can make machine more stable and save raw material. With light eyes under the paper roll,the machine will be stopped when out of bottom-paper, avoiding the waste in paper.
3. Gear drive is adopted to avoid the defect of loose gap of chain drive.
4. We use a self-lubrication system in the machine, which reduces the friction between the parts. And we do not need to add the oil manually. Sometimes worker are not willing to add the oil everyday. In this case the machine can be maintained without manually fueling.
5. This device adopt non-contact multi-point light control switch (such as in paper holder, cup tube ,bottom paper and so on, according to customer demand). It can detectworking situation, then achieve a fault alarm preventing machine from collision, makes the machine more stable and longevous.
6. Paper tube station uses independent cam to handle cup holder. This is advanced in stability and will not make noise when it works.
7. The machine is equipped with gear motor simplifies the complicated system and makes the machine more stable.
Main Technical Specification:
Model
ZBJ-X12 Automatic Paper Cup Machine
Paper Cup Size
3-12oz(Mould changeable)
Raw Material
180-300g/㎡(One-side or Two-side PE (polyethylene) film coated / laminated paper)
Suitable paper weight
180-300 g/㎡
Productivity
50-70 Pcs /Min
Power Source
220V/380V 50Hz
Total Power
3.5 KW
Total Weight
2500KG
Package Size(L x W x H)
2600x1200x1750mm(LxWxH)
Working Air Source
0.4-0.5m³/min
Making Double PE coated paper cups, need to buy an air compressor
The part we used:
1) We use125 type gear box, which has two years warranty.
Normally, 100 type gear box is used.
*125 type is much bigger and stronger than 100 type.
*100 type gear box, if used for one year, is easier to have problem.
*X12 model add extra gear box (small one) to control the bottom paper feeding.
The gear box is very important to the machine. It control the whole machine, if there are some problems with these two parts, then, you have to change the gear box. In this case, the machine should be taken apart, because it is inside the machine. It takes much time, and sometimes you cannot install the machine correctly. So it is necessary to use better gear box.
2) The frame of the machine
The frame of new machine is thicker which can bear more weight than thinner one. So when the machine works it is more stable.
3) The steel shaft used
We use three shaft in the machine and normally two shafts are used.
Three shaft are better because the weight is divided into three parts. So when the machine works it is more stable.
4)Self-lubrication system
We use a self-lubrication system in the machine, which reduces the friction between the parts. So the machine can be maintained without manually fueling.
5) We use PLC Touch Screen, so it is easier for worker to operate the machine.
6) Three times paper feeding. Better to adjust the paper fan before folded. Can make the cup looks beautiful.
7) Use Robot hand. Can improve accuracy (taking the cups to the round plate.)
8) In Knurling part, we use Cr12 material, this material is more wearproof.
Even under high speed, the knurling can make the knurling of the cup better. Leaking rate is very low.
Workshop:
Free Accessories List
Number
Name and description
Quantity
Note
1
Electric heater punching bottom (Short)
1pc
2
Copper Immersion Heater  (Long)
1 pc
3
Spanner
1pc
4
Big spring
1 pc
5
small spring
3pcs
6
Bottom knurling heater
1 pc
7
Pre-heater
2 pc
8
bearing(5204) + Knurling wheel
1 set
9
inner hexagonal spanner
1 set
10
outer hexagonal spanner
1 set
11
bottom screw M16
6 pcs
12
oil gun
1 pc
13
Neon-electroscope
1 pc
14
Screw driver
1 pc
15
Hammer
1 pc
 
16
Machine spanner
1 pc
17
Makintosh
18
Box spanner 12-14  17-19
19
Pincers
1 pc
20
Rubber of silica gel (Red 3pcs , white 2pcs )
5 pcs
 
21
Hexagonal screw 6,8,10,12 — each 2pcs
8 pcs
22
flat shim D12-D16、12 Nut
10 pcs
23
operation manual
1 pc
24
instruction of inverter
1 pc