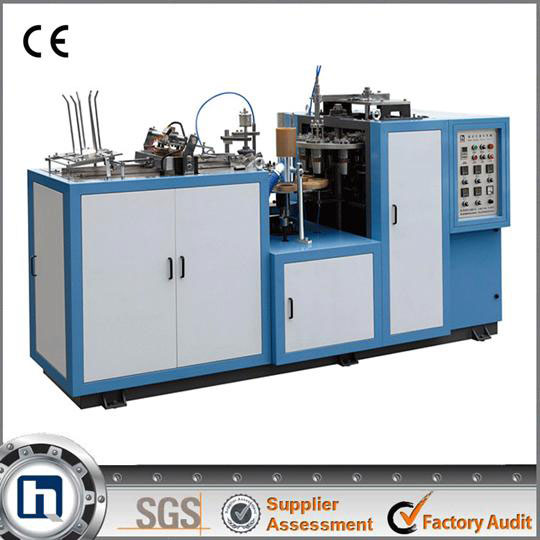 ZBJ-H22 Paper Cup Machine
Technical Specification:
Model
ZBJ-H22 Automatic Paper Cup Machine
Paper Cup Size
16 oz-22 oz (mold exchangeable)
Raw Material
One-side PE (polyethylene) film coated / laminated paper
Suitable paper weight
140-350gsm
Rated Productivity
40-45 pcs/ minute
Power Source
220V/380V 50Hz or other required
Total Power
5.5KW
Total Weight
2200KG
Package Size(L x W x H)
3200 x1300 x1900mm
Working Air Source
0.4Mpa, Air Out-put:0.6 m3/minute
  Making Double PE coated paper cups, need to buy an air compressor
The part we used VS normal one:
1) We use 125 type gear box, which has two years warranty. Normally, 100 type gear box is used.
* 125 type is much bigger and stronger than 100 type.
* 100 type gear box, if used for one year, is easier to have problem.
2) We use 1:30 100 type Speed reducer.Normally 1:20 80 type speed reducer is used.
* 1:30 100 type speed reducer is more stable than 1:20 80 type speed reducer.
The speed reducer and the gear box are very important to the machine. They control the whole machine, if there are some problems with these two parts, then, you have to change the gear box and speed reducer. In this case, the machine should be taken apart, because they are inside the machine. It takes much time, and sometimes you cannot install the machine correctly. So it is necessary to use better gear box and speed reducer.
3) We useφ30 import steel shaft for the machine.Normally φ25 steel shaft is used.
* φ30 steel shaft has longer life and is resistant to wear.
4) We use 3 Cam to control the folding process.Normally 1 Cam is used to control the folding process.
* Each Cam control each arm, folding process is more accurate and easy to adjust.
5) We use two times paper feeding process.Normally one time paper feeding process is used.
* Two time feeder make feeding and folding has more time to done process.
* Paper fan not easy corrugated when fan goes folding process.
6) We use multilayer suckers for the paper taking.Normally single sucker is used.
* Multilayer sucker is much powerful and make the process successful.
* Multilayer sucker has long life; when the top is wornout, just cut the top.
6) Some bearing import from other country.
JAPAN: NTN , NSK .   GERMANY: FAG .   ITALY: SKF
7) Contractor: CHINT brand (The biggest electric parts supplier in china)
http://www.chint.net/ it is a public company
8) Ultrasonic:  EVER GREEN
9) AC DRIVE- company make & capacity: EURA (Brand)
Free Accessories List:
Number
Name and description
Quantity
Note
1
Electric heater punching bottom (Short)
1pc
2
Copper Immersion Heater  (Long)
1 pc
3
Spanner
1pc
4
Big spring
1 pc
5
small spring
3pcs
6
Bottom knurling heater
1 pc
7
Pre-heater
2 pc
8
bearing(5204) + Knurling wheel
1 set
9
inner hexagonal spanner
1 set
10
outer hexagonal spanner
1 set
11
bottom screw M16
6 pcs
12
oil gun
1 pc
13
Neon-electroscope
1 pc
14
Screw driver
1 pc
15
Hammer
1 pc
 
16
Machine spanner
1 pc
17
Makintosh
18
Box spanner 12-14  17-19
19
Pincers
1 pc
20
Rubber of silica gel (Red 3pcs , white 2pcs )
5 pcs
 
21
Hexagonal screw 6,8,10,12 — each 2pcs
8 pcs
22
flat shim D12-D16、12 Nut
10 pcs
23
operation manual
1 pc
24
instruction of inverter
1 pc